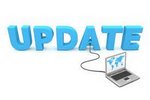 Wednesday, May 20th
Please adhere to the following important updates.
Device return is scheduled for Wednesday, May 20th from 9 a.m. until noon.

Please come in through the car line.

Lost and Found will be available from 9 a.m. until 2 p.m. on Tuesday, May 26th. Any items not picked up on May 26th will be donated to charity.

Please register for summer enrichment.

Reimbursements are being mailed from the central office.