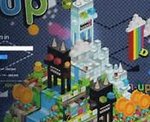 Login to STRIDE
https://www.stridelogin.com/login/
Watch for news about our next contest!!
How to get started: It's as easy as 1-2-3!
Mathematics, Reading, Science and Language Arts success at school can be a shared learning experience! It all begins with a simple login at the web site. A student may login from any computer or tablet that has Internet access to the web.
How to access Stride:
Access your Internet

Enter the URL (website address) https://www.stridelogin.com/login/

Enter the required information

Select your name

Select your subject

Begin answering questions and playing games!
You will be amazed at how motivated and excited your child will be to share in the interactive learning experiences while studying at home.