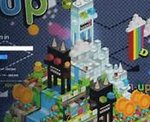 Login to STRIDE
Contest News - CONGRATULATIONS TO OUR WINNERS!!
Watch for exciting details about our next contest!!
Contest: Homework Time
February 1 - 28, 2018
Goal: Win Skill Badges and Answer the most Questions
Dwight Kimbrough earned 102 Skill Badges (Ms. Hopkins - 5th Grade)
Kaitlyn Pettigrew answered 1,543 Questions (Mrs. Ellis - 2nd Grade)
Special Recognition:
Mrs. Ellis's 2nd Grade Class earned 401 Skill Badges
Mrs. Carter's Kindergarten Class spent 1,059 minutes on STRIDE at home
STAR Quest Contest
The contest was based on the number of questions answered during the contest period.(October 10 to November 10)
WINNERS
Kindergarten - Mason Jones
First Grade - Jermein Bruister
Second Grade - Dedrick Witherspoon
Third Grade - Lakeis Ware
Fourth Grade - Larriona Miller
Fifth Grade - Aaron Moore
How to get started: It's as easy as 1-2-3!
Mathematics, Reading, Science and Language Arts success at school can be a shared learning experience! It all begins with a simple login at the web site. A student may login from any computer or tablet that has Internet access to the web.
How to access Stride:
Access your Internet

Enter the URL (website address)

alabama.stridestart.com

Choose to sign in using your KCC Code, or your Student ID

Enter the required information

Select your name

Select your subject

Begin answering questions and playing games!
You will be amazed at how motivated and excited your child will be to share in the interactive learning experiences while studying at home.
Our School KCS Code is: KCS97439A